TOP 10 Best Cameroonian Music Albums of 2022 
2022 was another blessed year for Cameroonian Music lovers. A Year blessed with numerous hits from Cameroonian artists which topped charts, playlists and become street anthems. In this article we take a look at a selected Best 10 of the amazing albums that were released by Cameroonian artists in 2022. Below you will find a countdown to the TOP 10 Best Cameroonian Music Albums of 2022.
10) VEGAH – LIFE OF VEGAH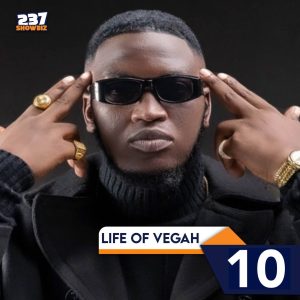 Artiste: Vegah
Album Title: Life of Vegah
Date of Release: 8th December 2022
Number of Tracks: 17
Record Label: Trong Pikin Entertainment
Cameroonian rapper VEGAH signed to his own label Trong Pikin Entertainment released his rap album Life of Vegah on December 8, 2022. The album boasts of 17 racks and 11 collaborations. Vegah cuts across the fan base of other talented artistes such as Cleo Grae, Askia, Blaise-B, Muss, Hardfire, Drizz, Belvia, One Rocky and Tessa. Vegah dropped the album exclusively on his website www.trongpikin.com.
9) KITZ – Voice of the Streets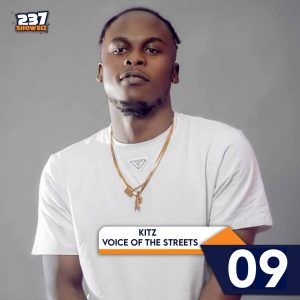 Artiste: Kitz
Album Title: Voice of the Streets
Date of Release: 30th September 2022
Number of Tracks: 14
Record Label: BDA Gang Music
After dropping 2 rap albums in 2021, Street King and Sleep for Slips in March and June respectively, BDA Gang Music front row artiste KITZ continued from where he left by dropping another album in 2022 entitled "Voice of the Streets". The album is filled with tracks Dong Dong, Aza Man, Bamenda Skama and Fupp Choup just to name a few. KITZ music speaks more to an audience that uses the hustling and fighting spirits to put food on their tables on a daily. The rapper's consistency has steadily placed him on a list of one of Cameroon's talented Gen Z rappers. In this incredible body of work, KITZ employs the collaborative services of fellow artistes such as Tzy Panchak in track 12 titled "Problem", Daiko in track 11 titled Salazar, Taku Joel in track 10, "We Outside", Yung Time on track 8 titled "Big Drip", South Africa based Makizar in track 6 entitled "Cutting", Torch City left a verse on "Nyamulung vs Old Town", track 5, while Tenor & Outlaw Kranzy have their voices on track 2 entitled "Shemag". The King Kong Stanley Enow promised to do the intro of the album Voice of the Streets but that didn't happen, KITZ went ahead and did the intro with the help on Owenn and the streets go to hear voice. The album garnered 43.4k Listens on Boomplay.
8) KINGSLY-T – KNIGHTED
Artiste: Kingsly-T
Album Title: Knighted
Date of Release: 8th July 2022
Number of Tracks: 7
Record Label: Cullinan Entertainment
Cameroonian singer Kingsly-T's musical project entitled Knighted makes it to the 8th position of this countdown. The body of work has as guest appearances Stanley Enow on track 4 entitled Gater, Nabila in track 2 titled Yamo and Peka on track 7 entitled Pardonner Reloaded. Knighted. The Album has 133.3kK listens on Boomplay.
7) LYDOL – HYBRIDE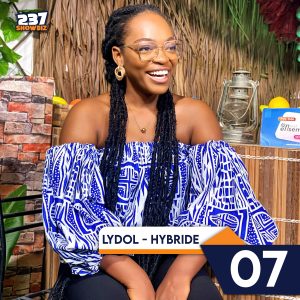 Artiste: Lydol
Album Title: Hybride
Date of Release: 12th August 2022
Number of Tracks: 16
Record Label: TheDYStudios & Oss Consulting
Cameroon singer and songwriter Lydol made public her second studio album entitled Hybride on August 12, 2022. The 16 track album boasts of Executive Production credits by TheDYStudios & Oss Consulting. Hybride is the honest expression of Lydol's pen. Sometimes it is melancholic and calm, sometimes it can be joyful and festive. Whether a musical performance or acapella, Lydol's Hybride will transport you to a universe of emotions where her verses and voice mingle. The album is inspired by traditional Cameroonian rhythms and Lydol's recent travels. It comprises of sound from the Kalongou, Kora and Saxiphone.
The albums has collaborations on track 3 "Ndolo Bobe" featuring Cysoul, track 7 "Je Ne Savais Pas" featuring Gaz Mawete, track 10 "Kossa Makossa" with Krys-M, Magasco on track 12 entitled "Legeudeh" and Happy d'Efoulan, Aveiro Djess and Mimie on tracks 13, 14 and 15 respectively.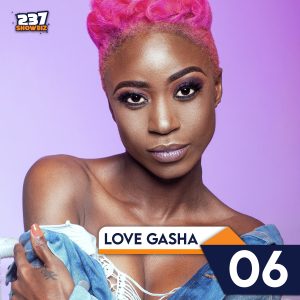 Artiste: Gasha
Album Title: Love Gasha
Date of Release: 30th June 2022
Number of Tracks: 9
Record Label: Dule Inc
Cameroonian Afro Pop/Afrobeats singer GASHA credited her music bank with a marvellous body of work entitled Love, Gasha, June 30th, 2022. Gasha didn't seek the services of any other artistes as she decided to ride all 9 tracks on her own. In "Love, Gasha, the singer still on the verge of making that great comeback and silencing critics in an expression of love and spirituality which are core values to her existence. Love Gasha goes ahead to reveal the singer's dynamism and showcases her new found path filled with inspiration and excitement. The body of work has songs like Taxi Driver, La Vida Loca, Asawo Games and Spirit. The Album LOVE GASHA has a total of 108.8k Listens on Boomplay.  She takes our number 6th spot on this count down.
5) FUL – F1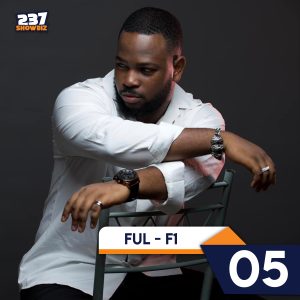 Artiste: FUL
Album Title: F1
Date of Release: 24th June 2022
Number of Tracks: 10
Record Label: FUL
Cameroonian singer and songwriter FUL after dropping an EP "Spirale Infernale" in 2021, the EP was well received and he advanced to serve fans with his debut album entitled "F1" which was released on the 24th of June 2022. It is mostly embodied with experimental vibes, filled with love in a special way or mood. The album seeks to tell us what true love is because we believe it exists and though it does, it does not last forever.
The 10 body of work currently at 2.2 Million streams on Boomplay features the likes of Tenor on track ten titled Hyprocrite, Magasco on track six titled Painkiller, Cysoul and Locko in track seven Amina and two Entre Nous respectively. FUL made headlines and burst into the music scene during his participation at The Voice Afrique Francophone 2017 as a finalist but lost to Togo's Biaka. Since then, the music talisman has contributed greatly to Cameroonian music with his amazing vocals and exceptional releases. FUL's  F1 album occupies No.5  Spot on this countdown.
4) MIC MONSTA – THE STARS ARE WATCHING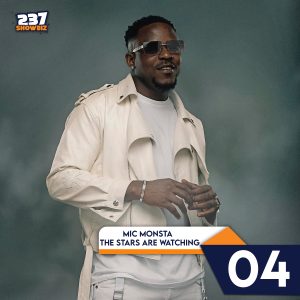 Artiste: Mic Monsta
Album Title: The Stars Are Watching
Date of Release: 29th July 2022
Number of Tracks: 16
Record Label: Kwatta Music INC
Kwatta Music INC head honcho and the Mayor of Punchline district Mic Monsta fed his hip hop fans with a Hip Hip/Rap album entitled "The Stars Are Watching". The album was released on July 29th 2022. "The Stars Are Watching" by Mic Monsta is a 16 track masterpiece with 12 collaborations. Apparently, almost every artiste wanted to be a part of Mic Monsta's project as just 4 tracks were solo namely Work Dey, Emergency, Money di Follow Me and Mbondo, the rest had features. Songs like Work Dey was used in the action thriller movie "The Highway" (L'axe Lourd)" directed by Nkeng Stephens. Also, Mic's respect to Bikutsi legends is seen in track track 11 entitled Nostalgia featuring Kikoh as he samples Les Maxtones du Littoral's "La Suite de l'Affaire (On Attend l'Enfant).
The album has a great number of guest appearances such as Dready Christ, Makizar, Mihney, Asaba, Marnick, Crownz, Kikoh, Iyassa Nyce B, Awu, Torch City, Cleo Grae and Drizilik from Sierra Leone.
Mic Monsta's album The Stars are watching was honored eNow Digital as the bestselling album ever on the music sales website. It equally hit more than 100K streams on Boomplay in a week and 1 Million Streams on Boomplay in 5 months. This is Mic Monsta's 3rd studio project after seving fans with Vibes Clinic in 2021 and Kwata Dairy Volume 1 in 2018. Mic has his 5th album ready and there's no way hip hop lovers will be starved by the Mayor of the punchline District.
3) TZY PANCHAK – LOVE & WAR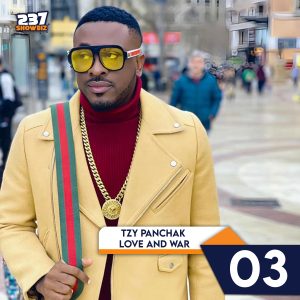 Artiste: Tzy Panchak
Album Title: Love & War
Date of Release: 8th July 2022
Number of Tracks: 14
Record Label: Blu Nation Recording
Blu Nation Recording Frontline singer Tzy Pachak unveiled his debut album entitled Love & War on July 8, 2022. The singer started by releasing "All Over Me", track 9 off his album on July 1st and the Blu Nation/Boomplay partnership permitted the platform to release the album exclusively on July 6th. Love & War is a 16 track album which is divided into two sides, 8 Love songs Lovi Lovi, Love Ship, Love & War, Cucumber, All Over Me, Wellysane and Hello BB and 8 songs of War, hate, pain and struggles with titles Patient Dog, 4 Eyes, Trop Avance, 2 Kings Grace,Wolombo and Claim Relationship. Love & War album features Music Legend Longue Longue , Stanley Enow, Dr Sid,Vivid Smith, Cleo Grae, Khoruz , Mihney, Atebass …etc, meanwhile Production on "Love & War" album is mostly by TeddyBeatz, Dijay Karl, Abztrumental, Wavalez OTT, Dj kessy. Love & War album by Tzy Panchak sits comfortably on No.3 with a total of 1.3 Million streams on Boomplay. A Masterpiece that will be remembered.
2) AWU – SOUNDS OF HERITAGE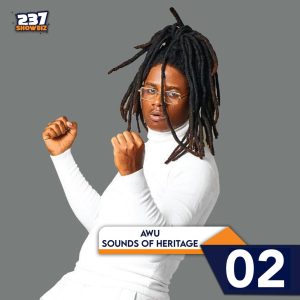 Artiste: Awu
Album Title: Sounds of Heritage
Date of Release: 27th May 2022
Number of Tracks: 15
Record Label: Deekay House
After thrilling fans with his popular hit song "Yayayo", a single off his debut album Sounds of Heritage, singer Awu set the standards high and we expected nothing less when the album dropped on May 27, 2022. The 15 track album, a Makossa Fusion which is the exciting musical direction of the singer as he fuses Makossa with other sounds to give a unique, experimental and celebratory sound while highlighting the individuality of the artiste in his uniqueness. The album features Phillbill in Criminal Case, Orijina Mara in Levels Remix.
The album Sounds of Heritage is the first Cameroonian album to hit 1 Million Streams on Audiomack barely weeks after its release and was nominated Album of the Year at the 2022 Public Vision Awards. After dropping the album, he went ahead to release two videos for the tracks Mola and Na Wa. The visuals of "Na Wa" was put together in the United Kingdom by ace Nigerian director Sesan. 

1)  LOCKO – ERA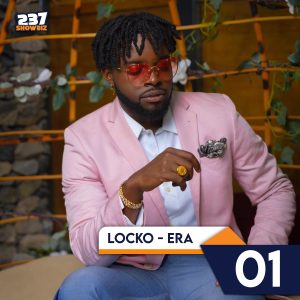 Artiste: Locko
Album Title: Era
Date of Release: 17th Dec 2021
Number of Tracks: 16
Record Label: Universal Music Africa
Cameroonian singer, songwriter LOCKO'S third studio album entitled ERA was released on December 17, 2021. The 15 track album is a representation of the SAWA tribe as it has numerous cultural values originating from the Littoral Region. Rich in folkloric melodies, Era is LOCKO's landmark as he drives into an era where he redefines his artistic and creative decisions. The album goes ahead to touch a wider audience across the Motherland through carefully picked out collaborations from some of Africa's heavyweights like Tayc, Ful, Cysoul, Innos'B and Bramsito from France. LOCKO is one of Cameroon's national treasures in the music sphere. The consistency in serving fans with multiple dulcet sounds and mind-blowing joints while stretching his sound across the universe has been one of his major goals and ERA seems to be the starting point to that "ERA".
Filled with so many hit songs such as "Meme Meme Choses, Bloque and Don't Call Me Back. The rich cultural respect to Manu Dibango in ManuLUV by sampling the Saxophonist's 1972 popular record "Soul Makossa" meaning (I Will Dance) contributes to the richness in LOCKO's body of work. The same "ma-ma-se, ma-ma-sa, ma-ma-ko-sa" refrain sampled by Michael Jackson and Rihanna in "Wanna be startin something & Please don't stop the music" respectively and the incredible sound of the saxophone in the song plays a unique role in the fusion. Era stretches and is easily our Top Album of 2021.
We have come to the end, there you have it our TOP 10 Best Cameroonian Music Albums of 2022. Hope you enjoyed reading ? let us know in the comment section your Top Cameroonian Albums released by a Cameroonian artist in 2022.
ALSO CHECKOUT TOP 10 CAMEROONIAN SONGS OF 2022