One hand can't tie a bundle. A riddle that explains the assertion that you just can't do everything by yourself. One of the things many Cameroonian artistes fail to understand is that their fans have multiple role models. A person may be your fan and at the same time the fan of another artiste whom you might be having a clash with. The dream of some of these fans is to see their favorite artiste working together in a song, concert or show. I'll take the case of the most popular urban artistes in a clash, Stanley Enow and Jovi. There are fans and younger artistes looking up to these two great icons, but because of the feuds that exist between both superstars, collaborations between the two is a topic none of them feel easy discussing about.
However, the dream of many Cameroonian fans, music lovers, entertainers is to see not only Jovi and Stanley Enow on a song but also other talented artistes like Maahlox, Pit Bacardi, Salatiel, Franko just to name a few. Mind you, because of the egoistic nature of these artistes as none of them want to be seen as the party that went on their knees to try and make peace, it will be very difficult to see many of these guys on a project. Let's go back to the case between female rappers ASKIA and Tilla Tafari. These cuties have been battling for the rap throne for a very long time and the fans don't seem to be helping either. They have contributed in fanning the flames of these beefs making things bloody and salty for both female rappers. Askia who decided to make peace in a manner which was suspected to be off social media (To many fans who didn't even care about how they fixed their issues) was applauded and regarded as the matured one when Tilla took to social media and showed gratitude to Askia for taking the bold step to call her so they could fix things up. Although Askia didn't appreciate this attitude of Tilla's and was something that could've been fixed by the Godmother at that time, the fans judged too quickly and added more fuel to the fire.
Also, through observation I have come to realize that the fans contribute a total of 50% to the disunity amongst artistes. Cameroonian fans and music lovers need to understand that these artistes are there to put out music for their consumption. This implies that, as a fan you will love to purchase an EP or album of your favorite artistes collaborating with another artiste you admire.
A good example is YEMA Productions boss LOCKO who in many times asks his fans on his social media platforms who they'll like to see him do a collaboration with.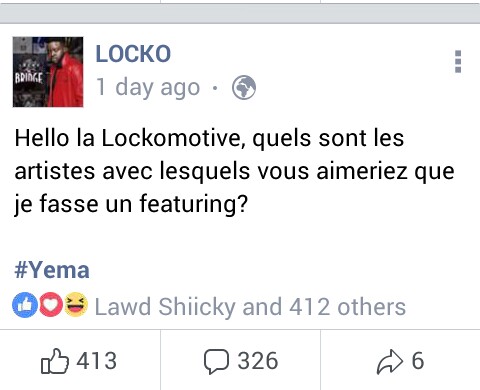 Although the thousand fans will have different options, LOCKO will definitely pick out the artiste with most nominations picked by his fans and work out music the fans will rush to and buy. Here, you see that there's togetherness, the fans are satisfied and both artistes win new fans.
Another instance of fan power is when a fan tweeted to Jovi and asked him to do a beat for the artiste Nyangono Du Sud. His reply was positive and even added that he will sing with the Foup Fap crooner whenever he wants. Shocking ain't it?
Without any hesitation, Jovi replied and said whenever he is ready they can do a song together. This is a typical example of fan power. Thus, until fans start booking their favorite artiste and convincing them into working together, they are 50% responsible for disunity, beefs, clashes and lack of support amongst Cameroonian artiste. Let's start acting right!
Victor Kange
(#NaTengiYesu)