Singer Magasco's Wife Calls Off Their One Year Marriage On Her Birthday
Singer Magasco's wife Falon Ima on Instagram (@falon_ima) has called off their one year marriage on her birthday. She took to her Instagram page to spill out the reasons for her decisions. According to Falon, she claims her husband Magasco is childish, a mummy's son and also revealed that she married the singer out of pity. She also added that Magasco is a wife beater and she can't continue the marriage.
"I have taken a lot of this, I decided to leave because I wanted my happiness, I have never been happy getting married to you, cus you where not in my plans for marriage, it's because of the things you did and promised to kill yourself, that's why I decided to go along with it, trying to make you happy and all. You could do was maltreat a woman who doesn't even love you but trying to make you happy, Please for Godsake stop holding me back, I already filed for a divorce, let me go, a mature man will do that, a man who loves his woman will do what will make that woman happy." – Falon reveals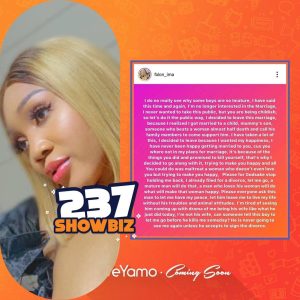 See screenshot of her Instagram post below;
Let us know what your thoughts are.