The Fisherman's Diary by  Kang Quintus and Enah Johnscott which has been one of Cameroon's best movies of 2020 has been considered eligible for pre-selection in the category of International film .This comes after The movie applied for pre selection by the voting membership of the most prestigious awards for artistic and technical merit in the film industry in the world, The Oscars.
The Fisherman 's diary has been selected to participate at this prestigious ceremony .This achievement marks Cameroon's return to the international movie stage after 41 years of absence.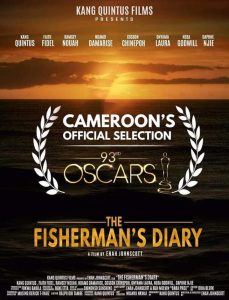 The Fisherman's Diary is a movie produced by Cameroonian award winning actor, Kang Quintus and Directed by Enah Johnscott featuring some of the best actors, actresses in the continent including Nigerian award winning actor and director, Ramsey Nouah ,Daphne Njie and Onyama Laura amongst others This movie tells the story of a twelve-year-old girl called Ekah (Faith Fidel) idolizes the story of the youngest Noble Peace prize-Malala Yousafzai. She is bent on going to school in a village of fishermen where the education of the girl child is considered to be a taboo. Her desire to break this old tradition get her embroiled with her father Solomon's past experience with girl child education.
The movie will represent Cameroon in the best international feature category.This is the 2nd time Cameroon is being represented at The Oscars  4 decades after "Notre fille" by Daniel Kamwa and also the 3rd  collective award show  its taking after winnig big at the African Movie Awards with 2 awards ,Golden Movie Awards winning 8 awards there and African Movie Academy Awards.  The movie has also won so many individual awards from Kang Quintus, Fidel faith etc.
.
The final nominee list is to be released in a few weeks time by February 9th and the award ceremony will be hosted on the 25th of April 2021 at the Dolby Theatre in Los Angeles, California.Below is the list of all the movies selected.
https://www.oscars.org/sites/oscars/files/93aa-international-feature-eligibility-list.pdf
With this in mind,We as Cameroonian hope the movie can pull through and bring the trophy home.