Mr Leo Announces Release Date For New Album Lion of AFRICA "Jeéy"- 237Showbiz
Lionn Productions singer Mr Leo has announced the release date of his second studio album titled "Lion of Africa" (Jeéy).  "Jeéy" which means "different" is the key message which cuts across the content of the album.
The Lion of Africa will be making the album public on Friday the 24 of September 2021.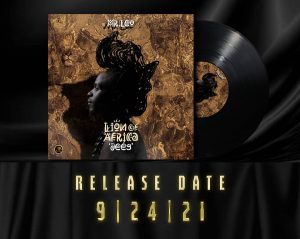 "I've always seen myself as a lion and a leader. Music finally became that thing I'm ready to die for and in it, I don't want to exist. I want to live a legacy. At every point in my music career, I always have this strong urge to get better, I always feel the need to evolve. I started by doing music to get into the system to now doing music that I really like, music that comes from my soul and delivering it as raw as it can be. To me this is the kind of music that really fulfils my purpose". – Mr Leo via Press Release.
Lion of Africa is not just an album but a movement which aims to empower Africa, uplift Africa, and create a positive switch in the mentality of Africans while telling African stories and passing on pertinent messages using core African sounds.
Hence in the Album Lion of Africa, Mr. Leo strives to reveal Africa in all its values, colors, greatness, strength and beauty; uplifting Africa and Africans:-"You can be a Lion at what you do"