Introduction
The news around cryptocurrency has taken less time to spread more than any other news. Could this be because humans are sensitive about financial issues? Maybe yes! Maybe not! However, different people see the hype around cryptocurrency differently. On the one hand, there are believers, who see the future in cryptocurrency. And on the other hand, there is a group that sees no prospects as far as cryptocurrency is concerned. Interestingly, the number of cryptocurrency believers increases each day. While some just intend to try the new product, others want to fully understand everything concerning it; its stakes and challenges. So, if you are still a Crypto sceptic, Crypto aspirant or have moved from the group of sceptics to the group of believers in Cryptocurrency,  then this article is for you. As a new believer in cryptocurrency, there are mistakes you must avoid.
Be a patient newcomer
Investors and crypto enthusiasts see cryptocurrencies as a new investment platform that is very profitable. Yes, it is actually a profitable medium of investment but not the only one. The tendency for novices to be lured to believing in making fast money by investing in bitcoin is very high. As a newcomer to the crypto space, it is recommended to invest any amount of  money in crypto only after fully understanding how the system works.
The value of cryptocurrencies is very volatile, especially bitcoin. As such, hastily investing huge sums of money in the system could lead to huge losses when the value drastically drops. As a matter of fact, only take the risk to invest the amount of money you are willing to lose.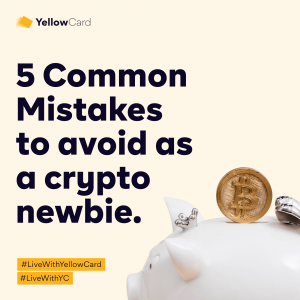 Avoid peer pressure.
Most novices of bitcoin learn from a friend, coach or social media publications. Rare are those who take time to invest in acquiring adequate knowledge related to cryptocurrencies. It is true that it is difficult to circumvent these different means of learning about bitcoin. It is also very true that you could, in addition to the information gotten from the media cited above, carry out more research in the domain before starting the venture. Yellow Card Academy offers a wide range of documents that will deepen your knowledge about Cryptocurrency in general and bitcoin in specific. This permits you to keep your emotions in check, avoid excitement and make the right decision when you eventually want to be part of the crypto community. In any financial adventure whatsoever, the general tendency is that the most patient end up as the most compensated. It is not different within the Cryptocurrency space.
Set realistic objectives.
Inexperienced bitcoin traders hope to buy at lower rates and sell at peak prices. For example, you may want to buy bitcoin at 200USD and sell when its value rises to 1000USD. This is possible but how realizable is it? And within what time frame? Thus, it is better to set realizable and controllable short and long term objectives, however keeping your expectations high. If we use basic commercial knowledge, we will be looking for a quick turnover as we trade in cryptocurrency. In other words, it is better to trade constantly with little profit and remain in business rather than wait, with no assurance to trade once and make a huge profit. Though taking risks is important in investments, being rational is even more important.
Avoid poor planning and anxiety
Most novices start trading and investing in crypto with no set out plan. There is a popular adage which says "proper preparation prevents poor performance". So, to get into crypto trading or investment, you need to be fully prepared. This preparation is made concrete with a plan which has been intelligently drawn, if possible, with the advice of experts of the domain. The plan may include the period to start trading, amount to trade or invest, and perhaps the maximum capital you are willing to lose. Most of the time, beginners trade depending on the availability of capital and speculations. This leads to vulnerability and anxiety making them continue trading with no perspective. It is ideal to draft a plan for investing or trading in crypto before out rightly beginning the process.

No traceability
The attitude of not keeping track of the activities carried out is as dangerous to a trader or crypto investor as it is to any other person. This is even more dangerous as far as beginners are concerned. Not keeping records of your trade as a newcomer prevents you from leaning on your good practices. It is difficult to know what you did well and did not do well unless you track your trading habits and the profit gained from them. Trading or investing in crypto goes beyond speculations and the hype around the cryptocurrency which interest you. As such, being observant  and following trends  must not be neglected.
Conclusion
Intelligent people learn from their mistakes but smart people learn from the mistakes of others. In as much as we cannot state all the mistakes newbies make, it is clear that most  arise from impatience, peer pressure and the desire to make fast money. However, mistakes remain inherent to humans but it will be very beneficial for a novice to use common sense in some situations and in others, they may need just small analysis by observing events surrounding the crypto environment. Whatever be the case, staying focused, planning and adopting a unique style will pay off. Ideally, you can take your first steps in the Cryptocurrency space at any legal cryptocurrency exchange platform like  Yellow card by trading crypto with fiat and eventually crypto with crypto.