Let me start by saying that this happens to be one of the biggest Hip Hop concerts held in Cameroon by Cameroonians.
The desire to fill up the Palais des Sports by Zone2Rap's frontline artiste Maahlox Le Vibeur as we all know was fueled by the fact that Congolese singer Fally Ipupa filled the sports complex during his last concert which was sponsored by the whisky company Ballantines. Also, the urge to prove a point to event organisers, artistes, the Ministry of Culture that as Cameroonians, we don't need forzign artistes to headline our shows before we can be seen performing in a full house. Maahlox who decided to take up the challenge by filling up the sports complex received so much love and accolades yesterday.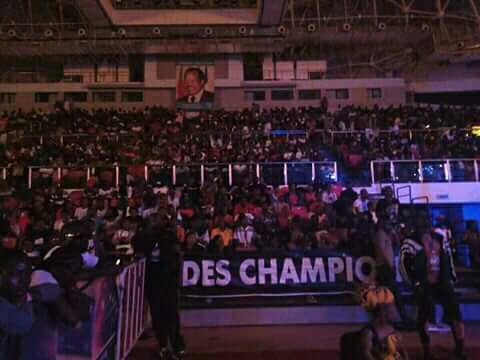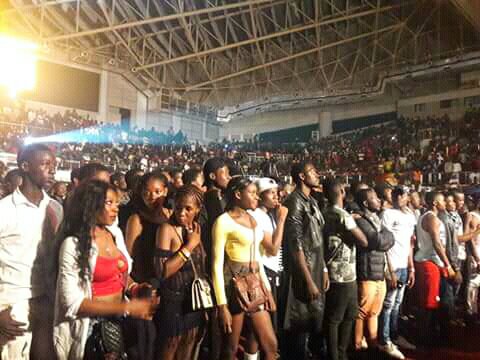 What was the main objective of the #MaahloxAuPaposy concert? Filling it up or providing a spectacular show to the audience? Well I am pretty much convinced that Maahlox achieved both goals in a concert organised barely 1 month ago, with no sponsors, the concert wasn't promoted by any major television. Most of the communication was done through social media, Facebook most especially with a few last minute radio tours in Yaoundé.
The concert was graced with the presence of some Indomitable Lions such as Tekeu, former lions like Alex Song, Kameni just to name a few. These lions came to support the concert which Maahlox also used as an opportunity to celebrate the death of the legendary Marc Vivian Foe who died in 2003 during the FIFA Confederations Cup 15 years ago. Yes of course there was a calm minute of silence in his name.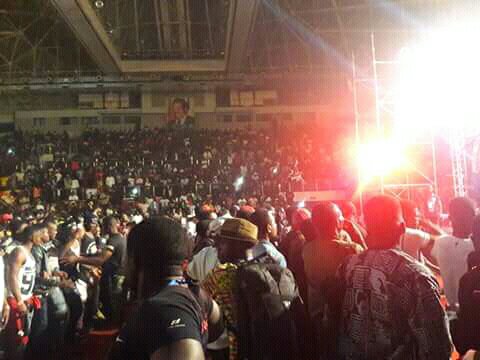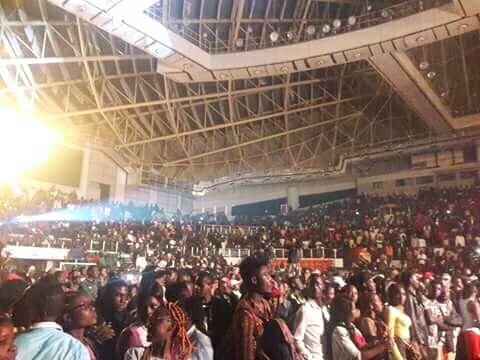 In the aspect of performances, there were a good number of young talents who made use of the opportunities given to them by Maahlox to entertain the crowd and win new fans. The English speaking artistes who performed during the first phase, although few which I noticed were Mel B Akwen and JOY. Mel B's performance was OK, I can give it a pass mark but that of JOY wasn't well appreciated, she performed one of her "Mash Up" series, little did she know that most of the artistes in her Mash Up were present. Unfortunately, I didn't set my eyes on others like Big G Baba or Kay Dwin
After the first phase of young talents performed, all hell break loose as soon as Maahlox stepped on stage. Paposy was on fire, every single soul stepped on their feet. It was a moment. Things went crazier when Maahlox began bringing on stage surprise guest artistes. Firstly, it was Salatiel, the Mr. Leo performing Bougez La Bas alongside Maahlox, Mr. Leo on his part remind the Paposy filled up complex that he had fans "partout". Daphne on her part was telling her fans that her love for her man is "jusqu'à la gare" as she killed her performance with her hit songs "My Lover and Jusqu'à La Gare."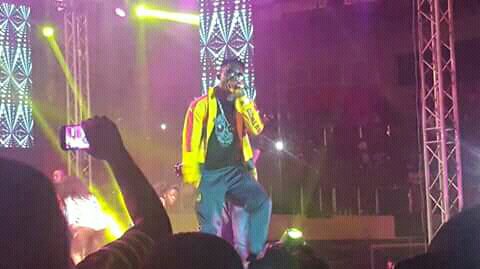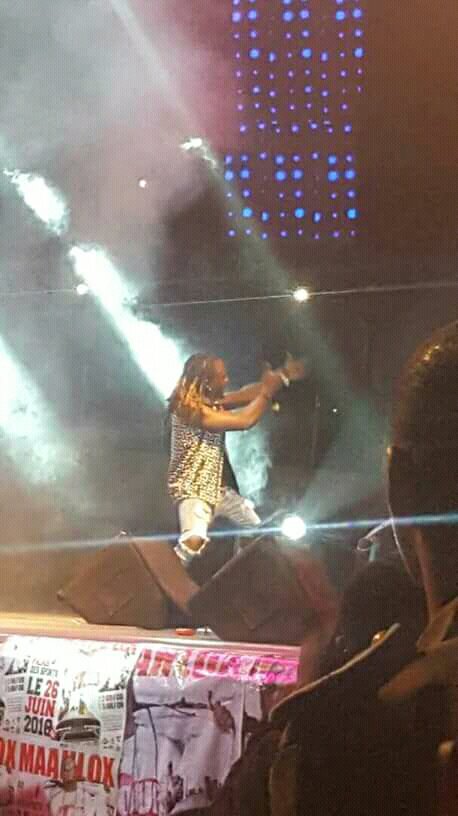 Did you know Pit Baccardi and Magasco also stepped on stage performing Arrêtez and Sokoto respectively? Well it didn't end there, other guest artistes such as Krotal and Koppo came to show their support. While the last guest artiste who killed the show was Tenor. Remember, Tenor has his own challenge to fill up Paposy in the same manner thus his presence and support for Maahlox was very necessary.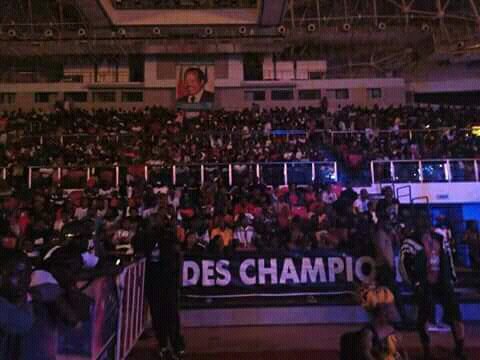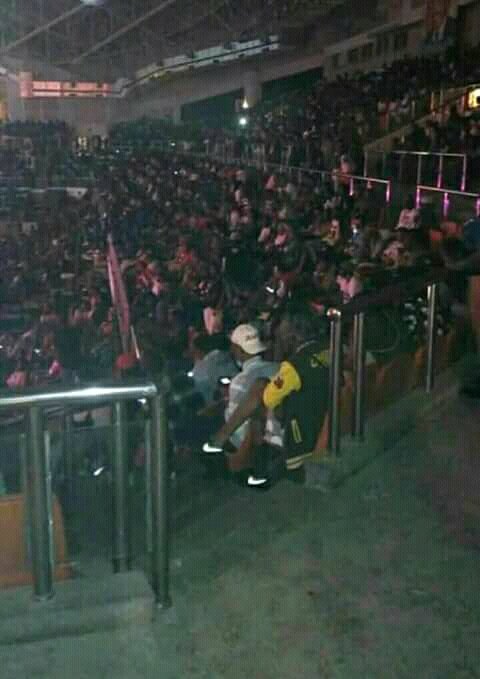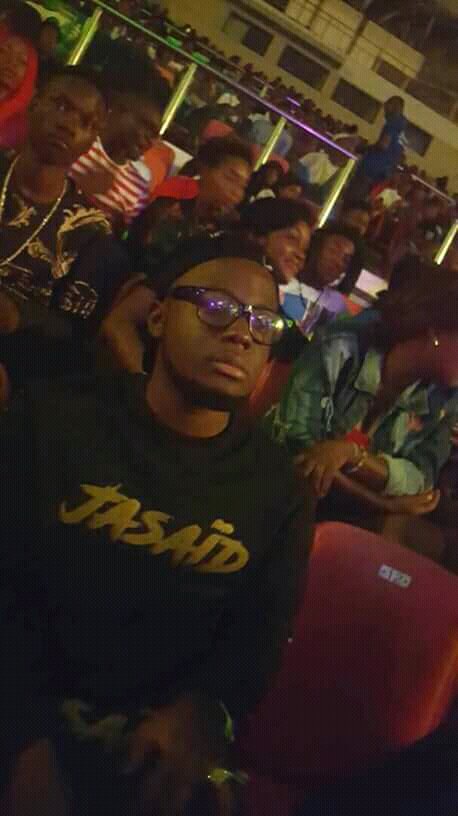 I for one being part of the crowd was really amazed by their energy, they kept cheering from the word GO! To the phrase Thanks for coming. Many of them who didn't have private transport returned home soaked in rain but with smiles on their faces. Money well spent, performances killed!, money in the bag of Maahlox, history well written. It was amazing! You can confirm from the screenshots below!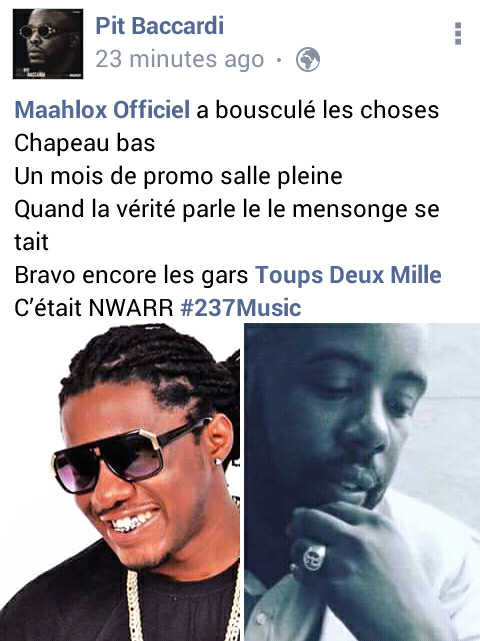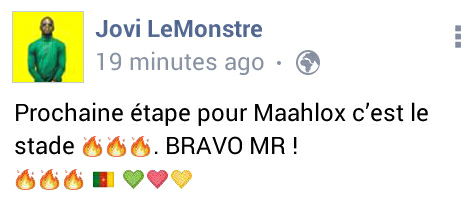 Victor Kange
(#NaTengiYesu)