We all know about our World Heavyweight Champion
Francis N'Gannou
making Cameroon proud .
Today we take a look into another monster in the UFC in the name of
Tafon Nchukwi
. is a Cameroonian mixed martial arts fighter in the UFC middle weight division.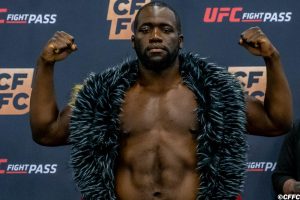 The Bamenda born athlete has shown so much promise and strength as for the past 2 years , he has climbed the ropes of the UFC and has an outstanding record of 5-1 .Aside from his lost to South Korean Fighter Park by Majority decision last week ,
The Maryland native has been on a crazy streak in the middle weight division of the UFC .
It all started when he delivered a triple knockout on his professional debut in 2019 to American Middleweight At Mccowin in the space of 2 minutes .This made people wonder who Nchukwi is and he actually responded to those questions in a deeper way 20 days time by knocking out American Light Heavyweight William Jung in 2 minutes 30 seconds .
1 year later , he fought A.Matavoa who he delivered a triple knockout in the space of 2 minutes .
His next fight later in 2020 came against American Middleweight Jamie Pickett and this was arguably harder than the previous 3 but still then , The Bamenda born athlete came on top by Majority Decision.
His latest fight with South Korean J.Park happened a few days ago and this was the first time he tasted defeat in the UFC
The self proclaimed Don took to his Instagram page to say
"We didn't get the victory but this was surely a learning experience, it showed me I have to better my game in such a way that next time , I'm bringing a storm to the ring with me ".
Tafon Nchukwi overall holds a record of 5 – 1 (4 TKO) and for a new guy in the UFC block , that's a very good record .
At the end of the day ,They haven't and won't hear the last of Tafon Nchukwi after all "Impossible N'est Pas Camerounais"