It was a hot afternoon on the 25th of March 2021 when one of the best Video Directors to come from Cameroon posted a surprising announcement on his social media platforms saying he will be taking a long break from shooting music videos.
This is someone who has beautified our screens with video's such as "Bon Bon" by Blanche Bailly, Promet Moi by Daphne, On Va Gerer by Mr Leo . etc. He has shot more than 400 music videos in his career and is a veteran of the 237 music industry with tons of experience to his name.
He told his fans and the entire music industry that he had decided to do other businesses and suspend his video directing  career.He also was very confident about his colleagues and the new school music video directors filling the void he is about to leave.
He went further to appreciate the artist he has worked with positively or negatively like on the picture below :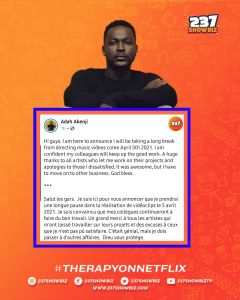 That is what occurred with thus music video director .What are your thoughts about this situation?
Do you think He will be missed in the 237 Music Industry ? Do the new Directors have what it takes to fill his void?
Share your thoughts in the comment section below