AMEROONIAN ARTISTE TZY PANCHAK ACCUSED OF FRAUD
A Few days ago, Blue Nation Singer Tzy Panchak was accused of allegedly forging the signature of the SED and Faking a convocation after a financial misunderstanding with an event organizer
This particular piece of news was received with mixed feelings by the general public and as such Tzy Panchak went live on his Facebook page to say his side of the story
The Blue Nation singer said he was contacted by Jones (The Event Organizer ) and they verbally agreed he will perform at his wedding at the price of 1.2 million francs with 800k Advanced before the event.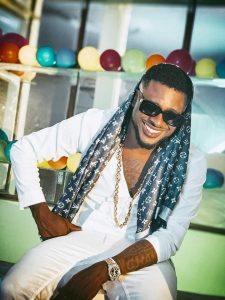 Jones also pleaded with Tzy to bring Kameni and at that time Kameni was in India getting treatment but she made it for the event as they performed 4 songs
According to Tzy Panchak , He performed 4 songs and waited and given the fact that Kameni wasn't well, they had to depart earlier than expected .Added to that , they had another show in Buea to attend. He says that they didn't perform more songs because a wedding is different from a concert and at a wedding , it's to entertain the public for a short amount of time and leaving the stage for other events like Item 11,traditional dances etc.
When Tzy's Manager asked for the balance of the agreed fee later ,Jones later on disrespectfully complained about Tzy and Kameni not spending up to 5 minutes and how Tzy Panchak is the one owing him money instead . This was done in 1 voice note sent to Tzy Panchak
Tzy Panchak found it disrespectful and abusive because he didnt expect such from someone he treated as family because the agreement wasn't signed and was more of a verbal agreement .
According to Tzy Panchak , he couldn't tolerate such disrespectful comments from Jones and so sent him a convocation .
Tzy Panchak held jones responsible for spreading fake news about him and tarnishing his image online which was more reason why he sent jones a convocation
He said that he is a public figure and can't be walking around faking a convocation everyone knows he can get for free
He said if he needed to do a convocation, he won't forge it but will instead make a few phone calls to Top ranked Police Personnels
Tzy Panchak also spoke about his upcoming concert in Dubai with CLEO GRAE , Vivid Smith and Kameni and told his fans not to miss this .
The singer took some time and spoke about the fact that negativity spreads more than positivity and how artists always have to defend themselves on numerous negative issues .
He took a tour of his studio and introduced his fans to Khorus and Wavelez saying they are the future of Cameroon music as they rounded up this 1 hour live Session by doing numerous freestyles and performances
Overall,This Live Session was aimed at clearing the air about the numerous accusations made towards him
Did he do this successfully?
Are there still unanswered questions
We leave it to you in the comment section below