"This matter no fit finish, yeah, this matter no go finish" these were exactly Jovi's words in his song Workmanship feat Pascal. Did these words mean his long time feud with Motherland boss Stanley will never end?
Last years 2016 & 2017, Jovi was noticed to have been very aggressive on his twitter calling out other artistes and throwing shots at them. Then came a time whereby he even attacked Empire Company's Magasco and boss Pit Bacardi. His words;
"Magasco is a pig and Pit is his father"
As if that was not enough, he woke up one morning and started throwing shots at "Stanley, calling him " a wet pussy about to get fucked." This brought out the real King Kong Gorilla in the person of Martin Enow out of the cage who later promised Jovi a lesson should he step foot in Douala at the time. The feud went on and on for days. This even brought in the likes of Wax Dey and Salatiel who came and drop a word or two then disappeared after Jovi gave them some serious replies.
Towards the end of 2017, Jovi changed like a chameleon, he began bringing out a friendly nature that saw many fans getting replies from the New Bell Music boss. There was a cordial relationship between fan and star.
After all dust went down, everything seemed calm between the two big boys, fans have been saying that Jovi's new single Ndole has shots fired in it. The shots are said to be pointed at Stanley Enow. In the second verse he says;
"Les gars jos qu'ils sont quitté le rap c'est le rap qui vous a quitté"
"Toutes vos flows cest du copié coller sois c'est prêté ou démodé"
Quand quelque chose t'a dépassé, faut pas avoir honte de laisser''
Remember during an interview with Pulse Tv Nigeria, Stanley Enow said he decided to leave rap because it doesn't pay. Now if you match these two instances, the interview and the lyrics, there's some kind of relationship among them.
We're not the only ones who thinks those shots were meant for Stanley or someone else as Djblast Rotto said. See what he said.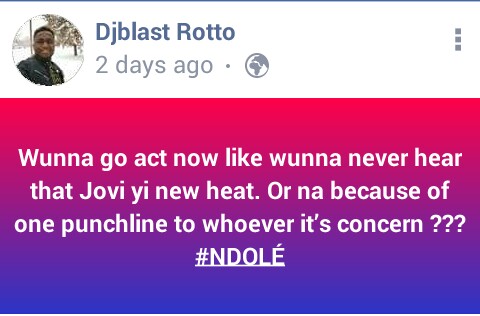 Now tell us, what do you think.
Victor Kange
(#NaTengiYesu)