Movie stars will always return to the bank to cash out another cheque if they have to perform some extraordinary acts in a movie. If an actor or actress has to cut his or her hair to fit a movie character or role, their accounts will be swelling in millions.
Cameroon actor, comedian and singer Cabrel Nanjip has broken the internet after cutting off his dreadlocks to fit the tole of a soldier in the movie "NGANÚ" by Kang Quintus. Ever since the actor shared the photo on social media, netizens have reacted and are eager to know what it took the actor to cut off his hair.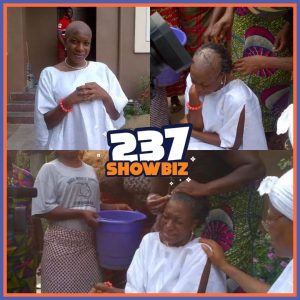 It should be recalled that, Nigerian actress Chika Ike was paid a whopping sum of 5 Million Naira in 2013 for cutting off her hair on set as she played the role of a widow to actor Olu Jacobs who died in the movie "Moment of Truth". Could it be the same for Cabrel ?
The forthcoming movie "NGANÚ" is jam packed with plenty Cameroonian celebrities and also stars Hollywood actor Hakeem Kai-Kazim. According to producer Kang Quintus, the film Nganu is coming like a hurricane and is definitely going to be one for the history books.