Tech Guru Rebecca Enongchong Debunks Rumors Of Her Being A Billionaire.
" Please I am NOT a billionaire in Dollars neither I'm I among the top 20 richest Cameroonians . This is false information "Says Tech Guru Rebecca Enongchong as she debunks rumors of her being a billionaire.
Rebecca Enonchong is a 54 years old Cameroonian entrepreneur. She's the founder and Chief Executive Officer (CEO) of AppsTech, founded in 1999. She's well known for her tireless work in the promotion of technology in Africa.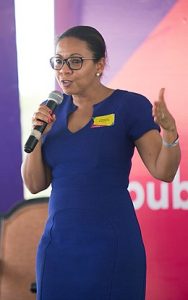 Rebecca's remarkable work has earned her a lot of recognition in Africa and beyond. In 2014, she featured on Forbes list of Top 10 female Tech founder in Africa.
Recently, one of Cameroon's news outlet, the "L'INDEPENDANT" featured this tech guru on their list of Top 20 richest Cameroonians. Something she did not appreciate and immediately contracted this press media by saying she's not a billionaire.
Her reaction shocked some more than one. What would you do if your name features on the list of Top richest Cameroonians ?