Cameroonian Rap Artist Tenor Criticized For Attending The Canal Ceremony After The Recent Tragic Incident Surrounding Him.
Cameroonian rapper Tenor has been on the center of criticisms lately for attending the 13th edition of the canal d'or ceremony barely three months after pleading guilty for the death of a 22 years old young lady named "Erica" in a ghastly accident they both faced on the 15th of July 2021 in Douala.
Three months after leaving the New bell prison, many expected Tenor to stay on a low key, indoors as a sign of remorse and respect to Erica's memory and towards her family. Something the artist did not perceive as he showed up at the 13th edition of the Canal d'or ceremony accompanied by his Ivorian girlfriend Eunice Zunonbook, both rocking a "to-match" bamoun attire. Not only was the artist slammed for this public appearance, but also the Canal d'or organizers for awarding him "Best Afro-Urban Male Artist". During his acceptance speech, Tenor thanked everyone for being so supportive with his situation and opened up about his future project which is to organize a national tour to sensitize and educate the masses on road accidents. Isn't this a great step towards a positive change?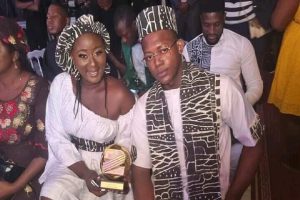 Do you share the opinion of others for Tenor to stay on a low key too? Or Should Tenor never be forgiven for his mistake ?