Salatiel Pays Homage To Cameroon's Living Legend Petit Pays In New Single Pele.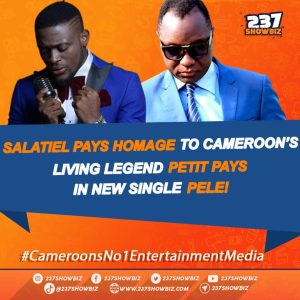 Singer Salatiel has paid homage to Cameroonian living legend Adolphe Claude Alexandre Moundi popularly known as Petit Pays in new single titled "Pelé". The Alpha Better Records head honcho uses Brazilian football legend Edson Arantes Do Nascimento aka Pelé's works as a measuring rod to level up that of Petit Pays success. The Brazilian scored 1.279 goals in 1.363 games. He is regarded as one of the greatest players of all time and labelled "The Greatest" by FIFA.
Salatiel pays homage to Petit Pays and the receipt is a dulcet song in which Salatiel gathers choruses from some of Petit Pays biggest hits, blends them into one song while Petit Pays puts the icing on the cake with his amazing ad libs. In the beginning of the song, Salatiel recognizes Petit Pays 50 years in the music industry with over 35 albums in his discography. Salatiel goes ahead to praise Petit Pays in the chorus, winning awards like Pele did with trophies in his career. Petit Pays with the backups returns the acknowledgement on Salatiel's works and crowns him the best of his generation.
Although we may have witnessed other artistes pay homage and respect to legends both living and dead, there is the need for our artistes to do more in a bid to showcase the works of our legends to the new generation. Some of these legends didn't have a wider audience and it is duty for artistes of now to keep the legacy fresh in the hearts of music lovers. More so, paying homage should be a take home message to the younger artistes to always have respect and admiration for the legends in the industry.
Salatiel's homage to Petit Pays is just one of many. It is worthy to note that other artistes have have been very generous in paying tributes to their legends, idols and role models. We take a look at Jovi's homage to Petit Pays in the song "Comme Moundi" featuring Shey in the Mboko God album, Jovi also paid homage to the likes of Tom Yoms and Tchana Pierre off his 16 Wives album. In 2013, Jovi collaborated with the Legend Eko Roosevelt in the song Bush Faller.
Away from Jovi, we acknowledge Stanley Enow's role in paying homage and working with Legends such as Petit Pays and Claude Ndam in the songs Oh Yeah and Love Song respectively. Also, from Fhish and Longue Longue in Njoh to Mic Monsta's homage to Nkotti François in the song Local Lokito are some of the songs used to answer the calls of nostalgia and bridge the gap between the urban sound and Makossa.
From all indications, the fans are loving it. We can't pretend we don't need more.