Rap & Win These Special Prizes Courtesy of Ballantines x RZA x Crosley
Ballantine's, RZA and Crosley Radio have come together in an epic collaboration to release a limited edition collectible line of Bluetooth Speaker and Vinyl player. These audio collectible items were co-created by RZA himself, leader of the Wu-Tang Clan.
If you are an aspiring rapper Ballantine's is giving you an opportunity to be one of the very, very, few people in the world to have these in your possession.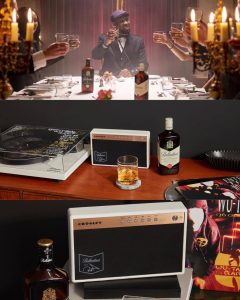 How do you win one? It's simple.
❇️ Download this beat:  Beat
❇️ Record a video yourself doing your best freestyle to this beat (50 secs max)
❇️ Post your video to your socials (Facebook, Instagram, Twitter) with the hashtags: #StayTrue and #Ballantines237
❇️ Follow Ballantine's Cameroon on Facebook and Instagram pages to know if you are one of the lucky winners.
Facebook: Ballantine's
Instagram: @Ballantinescm
You have until Friday July 14th at midday. So, get to work!!
#Ballantines237 #StayTrue #237Showbiz