DJ Bad Boy Wins Ballantine's True Music Mix Challenge, Takes Homes 1 Million CFA Grand Prize.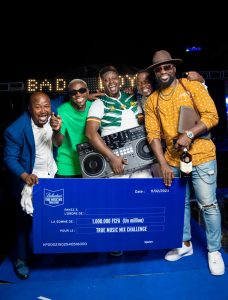 Cameroonian Disc Jockey, DJ Bad Boy emerged winner of the 2023 Ballantine's True Music Mix Challenge. The talented DJ was crowned winner at the Ballantine's Battle Rave Night event on Saturday February 11, 2023 in Akwa, Douala. He walked away with a grand prize of 1.000.000 XAF, cash prize, 1 year contract as the official DJ for Ballantine's in Cameroon, a branded turn table and plenty Ballantine's gifts. DJ Bad Boy beat the likes of DJ Leo, DJ Gerardo, DJ Hiro to emerged winner of the completion while DJ Fredy Premier took 2nd place and went home with the sum of 500.000 XAF.
Ballantine's as a brand that supports talent and creatives stayed true to their activities throughout the competition with a goal of finding the next trending DJ in Cameroon. The event was graced with LIVE performances form Ballantine's newest brand ambassadors Ko-c, MIMIE and DJ Labastille.
Check out some photos of how the event went down;