Cameroon's lone Afro-spiritual and World Music artiste Ibali after the release of his second official single titled "One People" was crowned "Messiah Of Cameroonian Music" by the association of Cameroonian DJs.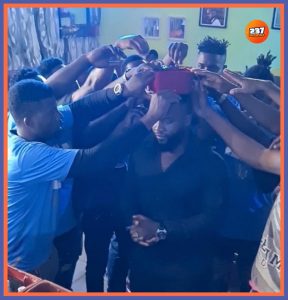 The blood rituals saw the slaughtering of a ram, a coronation ceremony with DJs wearing t-shirts tagged "Ibali The Messiah".
Ibali's latest single "One People" preaches unity amongst African people, togethers and love. Below are exclusive photos of the coronation ceremony. Take a sneak peek and listen to the song "One People" here.
Let us know if the singer deserves this crown.