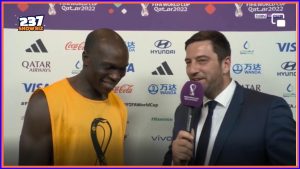 Cameroon faced Brazil yesterday in the 3rd game in Group G of the Qatar 2022 World Cup.  This was a very thrilling encounter which saw the Indomitable Lions shockingly defeat the Samba boys of Brazil 1 -0 thanks to a late goal from Cameroonian striker Vincent Aboubakar.
While this win couldn't the Indomitable Lions permit the Lions to qualify for the round of 16 of the World Cup, ( Switzerland qualified with 6 points thanks to a 3 – 2 win over Serbia) ,It's safe to say Cameroon gets eliminated with their heads held high as they did not only end their campaign with 4 points, they also became the 1st African nation to beat La Seleçao of Brazil.
Vincent Aboubakar was approached by Bein Sport after the match for an interview which he gladly permitted.  He was asked his opinion about this game and he said the following:
"It's a historic win for us but it's sad that qualification did not depend on us . We won but Switzerland also won so it's somehow a bitter victory . Nevertheless,  we went out with our heads held high especially because Cameroon has won a World Cup match for a very longtime.
This proves there is progress and we hope that the generation  that comes after us will come & do better than us "
Aboubakar revealed .
It should be noted that Cameroon hasn't won a World Cup match since 2002 so this win is a very huge one for the Indomitable Lions who beat the Best team in the world ( According to Fifa Rankings).
What are your thoughts about these statements from Aboubakar?