The Recent Appointment of Cameroon Football Legend Rigobert Song came like a thief in the night .No one expected such a major decision about Cameroon Football to be taken just 2 weeks to the very important World Cup Qualifiers play off matches against Algeria
The most capped Cameroon player of all time will have a huge task on his hands aside from beating Algeria , He will also have to do the following :
– Bring Unity back to a locker room that showed signs of fracture during the last AFCON
– Efficiently manage the Choupo Moting case
– Qualify Cameroon for CAN 2023 and do better than Conceiçao in this CAN in Ivory Coast.
– Promote and integration of young Cameroonian talent into the National Team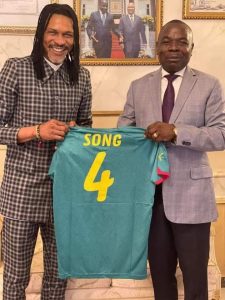 While these objectives are attainable (on paper ), We have to take a look at his experience and qualification for this job .While Captain Rigobert has been a fantastic servant for Cameroon as a player , He hasn't impressed as a manager.He Became Manager of Cameroon A Team in 2016 and was eliminated in the first round of the CHAN 2018 Championship in which he didn't win a single game
He also became the Manager of the Cameroon under 23 Team in which he led the team to the U23 AFCON . He was easily eliminated in this Competition in the first round after losing 2 games and drawing 1 in 3 matches.Rigobert Song gets the Job as Head Coach after numerous calls for FECAFOOT to hire a homegrown coach .
This comes after Senegal's Aliou Cissé won the AFCON 2021 trophy after 7 years of struggle by the Senegalese Coach but the million dollar question is Can Cameroon be Patient with Rigobert Song the way Senegal was Patient with Aliou Cissé ?
Is Rigobert Song the right man for the job after adding all the X & Y's ? Was it a mistake to Fire Antonio Conceiçao who had a great record for Cameroon ?
Only Time will tell
But for the main time , feel free to share your thoughts below