Empire Company singer MIMIE has promised to give-out 1 Million FCFA to 20 fans as a way of showing appreciation for all their support.
She will do this giveaway tomorrow the 13th of July 2022 . This giveaway comes from her winning 1.5million frs from the MTN Zik Cameroon Awards ( she emerged 2nd in 2 Categories ) .
Mimie took to her Facebook page to confirm this giveaway as she said the following:
"The last time told you that I was going to share my MTN ZIK AWARD  winnings (I had received 1,500,000 frs cfa) I decided to share 1,000,000 frs CFA (20 people) to help the ones or to contribute for the others to the realization lon have any plans. 

Tomorrow I proceed to share

All this is thanks to you, your time, your love and especially your megas, I owe you all in my own way, 50 miles seems small for some but I know it will help a lot.

Do not forget to follow the Mimie nation vip many other surprises will be revealed shortly

I'm going through the selection, which certainly won't be easy but….. there will be many more occasions

NANOU, with all the love"
Mimie ended her statement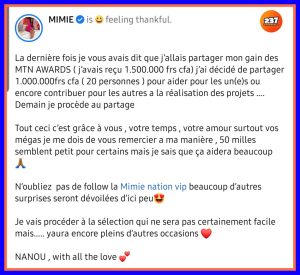 Tomorrow the 13th of July, The winners of this giveaway will be announced by MIMIE & Her Team as 20 people will receive 50,000 frs CFA from her .
What do you make of this gesture by Mimie ?Share your thoughts about this in the comment section below
___________________________________
Subscribe to 237Showbiz telegram channel here