Cameroonian singer Daphne mistakenly deletes her Facebook page with over 2 Million followers. The singer tweeted in the early hours of Sunday morning that while trying to temporarily deactivate her Facebook page, she deleted it. Her tweet has sparked several reactions on social media since we broke out the news as many have termed the mistake to be impossible.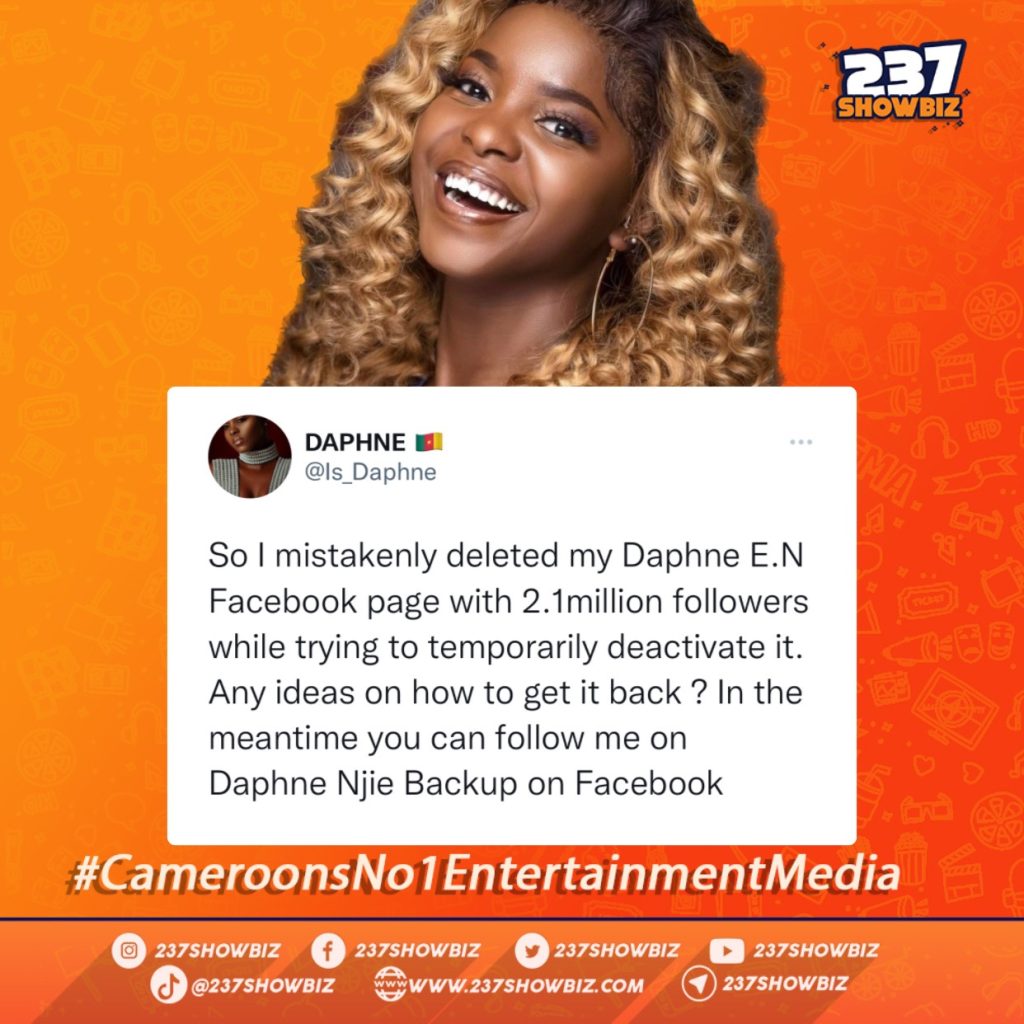 According to Facebook statistics, If you deleted your Facebook page, you can cancel your account deletion within 30 days of initiating the deletion and reactivate your pages. The days starts counting from the day the action is performed and within the 30 days, you can still reverse the action. Also, there are several steps one must take and accept before deleting a Facebook page.
More so , it is clear that the singer was not the only admin on her Facebook page. If one admin performs an action to delete a page, all the other administrators of the page will be notified of the action.
Daphne has created a new page "Daphne Njie Backup" and this page carries her new location and email address, a link to her Spotify channel. A few months back she created her YouTube channel currently at 880 subscribers as at the time of this report.
From all indications, Daphne hasn't released any music since August 2021. Within this timeframe, Daphne and the label have been in discussions if they should continue working together or parting and moving into their separate ways or coming into agreement in splitting the profits that were made as per contractual agreements.
It is alleged that Daphne and Stevens Music Entertainment have officially parted ways and it is alleged that in the process of her negotiations, none of her new releases will be published on their youtube channel which she help build. As it is already clear, Daphne created a YouTube channel in November 2021 where she already uploaded one of her freestyles. Her new page also disassociates herself from Stevens Music as it doesn't contain any emails, contacts or connections with the label. According to the above analysis, we can draw to the conclusion that Daphne is trying to solve this without any brouhaha with her former bosses.
Notwithstanding, Daphne has announced she will be live tonight at 8:00PM on her new page @Daphne Njie Backup to clarify everything without any online "kakamba".
To be continued…