Biggy237 Flatmate Fhish Declines Biggy's Offer as Head Of House This Week.
" Biggy I'm not ready to be house captain however I will give it to someone who I know is ready for such responsibility "
These were the words of Fhish as he handed the House Captain position to Cynthianne.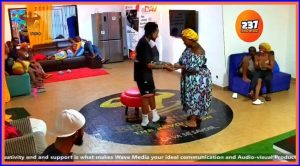 This occurred after Fhish was voted as the house captain for this week by fans and though he was grateful for the faith his fans put in him , he said he thinks he isn't ready for such big responsibility but however when he is ready, he will happily lead by example
And this is how Cynthianne became the House Captain this week after accepting Fhish's proposal.
This comes to confirm what others are saying about the new Fhish, who's much more humble and caring. Refusing to head the house puts him on the eviction list. Is such an act worthy, especially in a game like this?