L'Union Camerounaise des Brasseries abbreviated as UCB founded in 1972 by Cameroonian business tycoon Joseph Kadji Defosso of blessed memory celebrated its 50th anniversary with an unforgettable concert on December 22, 2022 which saw the likes of Mr Leo, Salatiel, Rinyu, Lady Ponce, Petit Pays, MIMIE and Nigerian superstar Kizz Daniel thrill the mammoth crowd at the Bepanda Omnisport Stadium in Douala.
UCB's 50th anniversary celebrations was not just about having a concert and bringing artistes together to sing and merry. The entire anniversary celebrations started off with celebrating its founding father Joseph Kadji Defosso Fua Toula who passed away on the 23rd of August 2018 in Johannesbourg, South Africa at the age of 95.
UCB in 1972 after creation employed over 1000 workers and produced 500.000 hectoliters of its Special soft drink and 800.000 hectoliters of beer such as King, Kadji, K44 a month. His contribution to the Cameroonian economy is worth celebrating.
The celebrations further moved to the "Raise Your Glass" whereby influencers and celebrities such as Moustik Le Karismatik, Salatiel, Kang Quintus, Witty Minstrel were invited to push the agenda, these celebrities and influencers raise their glasses at every moment to celebrate UCB 50 years of excellence in the brewery industry.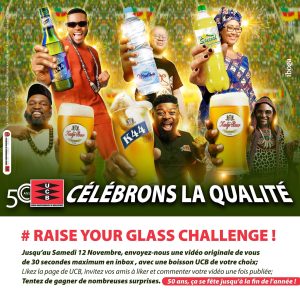 Celebrating the brand 50th anniversary in quality, taste and excellence and leaving out the giant force responsible for its production at the background was inevitable. UCB through the Raise Your Glass employees and communities awarded medals of honor to its employees on October 20th 2022 in Douala, Cameroon. Relive the moment with some of the pictures of the award ceremony.
The celebration later heightened when UCB sent 30 winners to QATAR for the 2022 FIFA World Cup to support the indomitable lions. Check the first wave of UCB and its customers heading to Cameroon's first game against Switzerland in Qatar.
After the FIFA world cup, UCB closed the year with arguably the biggest concert in Cameroon in 2022 with a lineup of some of Cameroon's biggest music stars such as Mr Leo, Salatiel, Rinyu, Lady Ponce, Petit Pays, MIMIE. The concert took place at the Bepanda Omnisport Stadium in Douala and was termed the Concert by UCB.
Headlining the concert was Nigerian superstar Kizz Daniel with a spectacular and unforgettable performance with hit songs such as Buga, Cough, No Wahala and No Do. Kizz Daniel revealed on stage that the Concert by UCb was the best he had done in the last 6 months. Relive the moment below in picture of how it went down.
UCB's 50th anniversary was worth celebrating. With the manner in which the entire campaign was well structured and planned, they should definitely celebrate each and every year.