Yesterday during the Inter Milan v Porto Round of 16 1st Leg Clash,Cameroonian goalkeeper Andre Onana had a violent verbal exchange with his teammate / Boznian Striker Edin Dzeko which could've led to a physical altercation had it not been for fellow teammate/Turkish midfielder Hakan Çalhanoğlu who intervened and calmed Onana just in time as Onana was screaming at Dzeko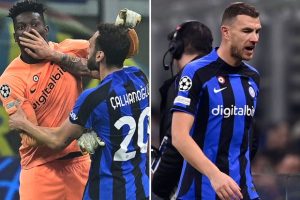 During the match, Onana protested to the referee about a certain action but Dzeko harshly responded to Onana that "Be Quiet and return to your post." This statement angered Onana a he Angrily responded to Dzeko that he should shut up. Before Onana could say anything further,Hakan Çalhanoğlu intervened and covered Onana's mouth.
The game finally ended with Inter Milan defeating Porto 1-0 thanks to a goal by Romelu Lukaku and Andre Onana delivered a man of the match performance to keep Inter on the winning side for the 90 minutes played.
Just after the game, Beinsport inter viewed Onana and he was asked about his clash with Dzeko. The goalkeeper played this down and emphasized that the most important thing was Inter's win in this match. Onana said the following :
" My Clash with Dzeko ? Tensions occur sometimes in some phases of the game.we shouldn't give it more importance. we talked in the dressing room and there was nothing like bad blood between us. I just got carried away . Dzeko too . "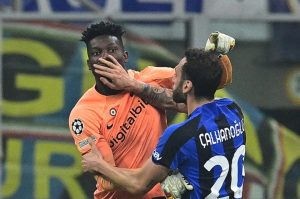 He also spoke about Inter's victory by saying :
"I am happy for Lukaku and his goal. It wasn't easy but we got the win.I hope Romelu Lukaku becomes becomes the main man by the end of the season.It's immportant. If he returns to his best level,we can win the champions league"
Inter face Porto in 3 weeks for the 2nd leg of this round of 16 tie which will be held in Portugal at Porto's Estádio do Dragão