Calabash Music boss Wax Dey is dragging rapper Melcube and YouTuber Mister Jaay to court for defamation of character according to a press release of October 24th 2022.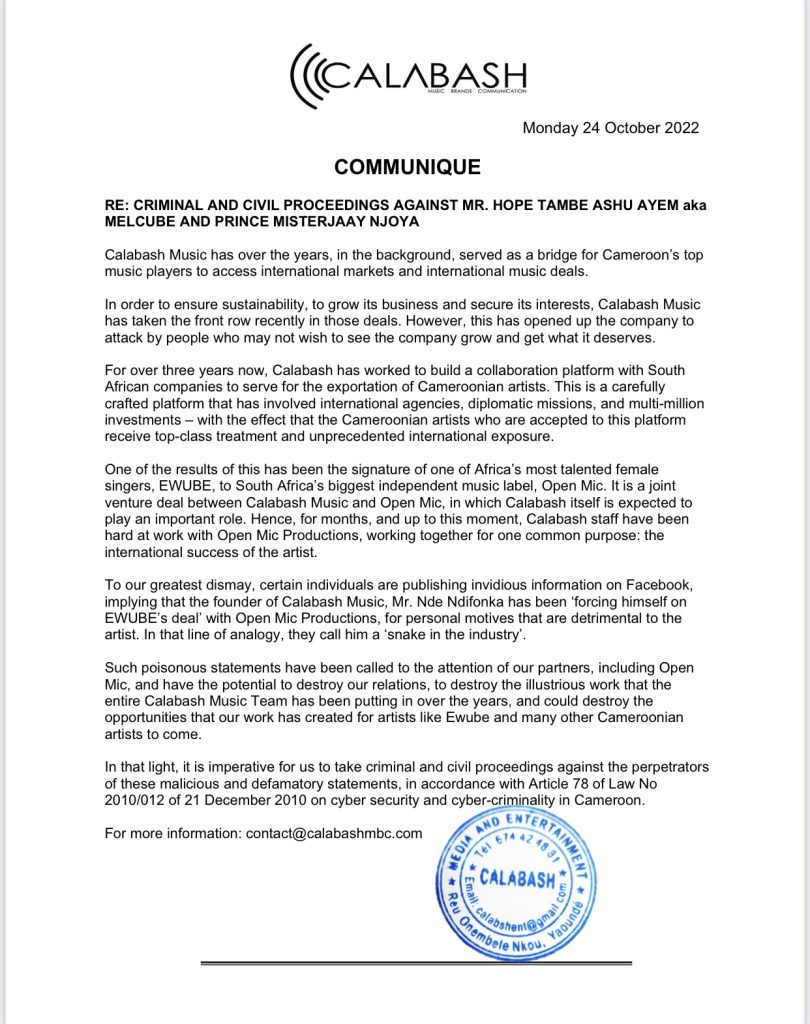 With its objectives of to bridging Cameroonian Music and International markets, Calabash Music has been working over the years to build a platform with South African companies to serve for the exportation of Cameroonian artistes one of which has been the signature of one of Africa's most talented female singers, Ewube Official 2.0, to South Africa's biggest independent music label, Open Mic Productions.
The label calls out Melcube and Mister Jaay for publishing invidious information on Facebook, implying that the founder of Calabash Music, Mr. Nde Ndifonka has been "forcing himself on EWUBE's deal" with Open Mic Productions, for personal motives that are detrimental to the artiste. In that line of analogy, they call him a "SNAKE in the industry"
According to the press release, Melcube and Misterjaay's statements have called the attention of Calabash Music partners, including Open Mic Productions, and has the potential of destroying their relationship, destroying the illustrious work that the entire Calabash Music Team has been putting in over the years, and could destroy the opportunities that our work has created for artists like Ewube and many other Cameroonian artists to come.
Thus making Calabash Music to take legal actions against Melcube and Misterjaay for their malicious and defamatory statements in accordance with Article 78 of Law No 2010/012 of 21 December 2010 on cyber security and cyber-criminality in Cameroon. If both men are found guilty, they are liable to face 6 (Six) months to 2 (two) years imprisonment and a fine of 5000.000CFA to 10.000.000 CFA.