237Showbiz: Geraldrico Guevara, many people only know you as "that" video director. Can you tell us about yourself?
Answer: Am Geraldrico Guevara, a young psychotic lad from Bamenda. A gluttonous admirer and up-growing novice in the classical school of 'fine Arts and esthetics!
Also trained like a Peer Educator and a Change Maker, and worked indirectly for Plan Cameroon as a Cartoon Instructor, 2008-2010. Engaged in writing from 2007 to present; Writer, Poet, author of Phantoms of Somnolence, a Kantian Philosopher; my critical thoughts have come to be appreciated by many people dull people like me.
2014, I turned Music video Editor. Was Music video Editor at NS Pictures for a year, before resigning to pursue a Career as Music video Director. Shot lots of music videos for many emerging and established Cameroon Artistes.
237Showbiz: A good number of video directors we have spoken with claim they are self taught video directors. Does your case differ? How did you get into video directing?
As I child, I always stared in awe at the moving images on TV, it was CRTV all alone then. All the American Music videos got me…It was like the Videos were the souls of the Songs, like one art couldn't exist without the other. This Appreciation of Music videos fascinated even me, and i took a fancy in watching more and more videos all the time. Around 2005, picked up a thick book at CRTV Bamenda, titled ''VIDEO PRODUCTION', and keenly reading through it, I thus developed a strong artistic approach. Having left the University in 2013, i had a small camera I used to borrow from a friend. I stood one evening, filming ''BONAS CONNEXION'', a music / hip-hop showcase at night. Rapping, singing, dancing was showcased here at night in chosen days of each month.
With my small camera, and filming away, A young man came and stood behind, and was clandestinely watching me and what I was doing. After that he approached me and told me that he was building an audiovisual firm, and will like us to work.
He then went ahead to put me under for a while under the mentorship of Tabi ZAMAH. For a short period, I learned fast, consulting YouTube and trying to recreate complex effects, and learning to shoot and edit creatively. I was soon discharged.
He is the first Man who ever put a professional camera in my hand, Collins Benrinyuy, the CEO of Sea Sound Records. I directed many videos under its subsidiary, SEA PICTURES, and in so doing to an extent polished my craft. NS Pictures soon picked me to become their in-house music video editor, a position I held for over a year, 2015-16.
I am now the music video director, editor for HIT54 STUDIOS, Douala.
Most of what we put out there, the art, the color grade, the lighting etc, it's what we learned to a greater extent on our own, from the internet. And it means patience and strong self-will.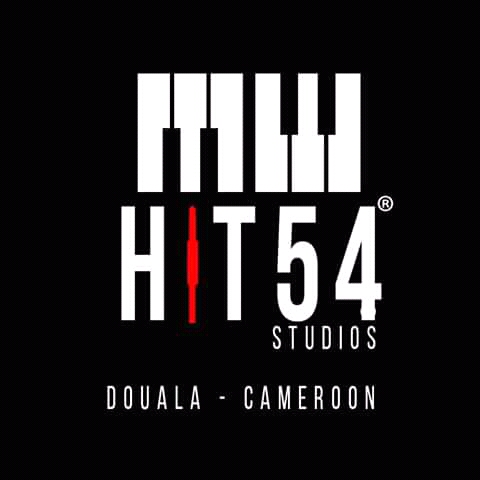 237Showbiz: You are responsible for all visuals that come in and out of the family Hit54 Studios. How does it feel being tied to a label? Is working independently less profitable?
Personally, I believe that what is holding a lot of us down, and a lot of bright smart people is individualism, and avarice. We need to believe more in collective effort. Only a bad company will slow an employee down. What a company does is provide the capital and the finance, so that the employee can easily unleash himself to the market through his works.
Wall Street, in the United States has some of the biggest companies, and all of these companies have at least 50 employees. Bright, smart,
Focused employees.
The closer heads unite for a definite goal, the more the prospects of achievement. For this Am nothing but happy, and together we shall add a strong impression on music and music motion picture, ceteris paribus.
237Showbiz: You've worked with some talented artistes in the industry. For example Kikoh's Calamity Series, DE Faka's chack just to name a few. Which music video has been the best you ever shot?
I see all my music videos as beautiful but ameliorable!!! My drive is to be better tomorrow than today. For this, I have no favourite yet!
237Showbiz: What are your views about the #HoldHandMovement? Are you a member? Is it worthy to belong?
I didn't know it was a group, I thought before that it was and it is still an initiative. A good one at helping those who can and should be helped. It has helped a lot of artistes spring to a higher rung in their respective music careers.
It's not a matter of joining groups before you feel like you too care or can help. I have given a hand to many artistes since my start and I keep doing so.
237Showbiz: At the beginning of this year, many upcoming artistes & some fans were against the 1 Million CFA price tag for music videos. What was your take on this?
I thought that as music video director, we need to do better, there is more demand for music videos, but there seems a tough reality we all have to reconsider. The people, indirectly or directly affected by the present ''political witchcraft', keep crying for positive change in our eco-political status. I therefore think that it will be more civic of us to raise our price tag of videos to expatriates instead and to expatriates only.
237Showbiz: The KamerFest contest hosted by you and upcoming producer Mrmccoy is coming up. Tell us about it and what we are going to expect?
It is a great opportunity for hesitant talents to come forward with their amazing talents. It is an opportunity for the New Acts who hitherto had no platform to showcase their talents and/or skills. The Winner will be shot a music video for free, amongst others. There shall be a free downloadable beat, produced by Mccoy the Wild Ass Producer. This will be the official Template beat of the competition.
It's all about encouraging hidden talents to challenge themselves and bring out the ''fantastic '' best in them through the exposure we will create for them.
It also has many hidden agendas, which I can't unravel here. What I will advise is that everyone should take the contest very seriously.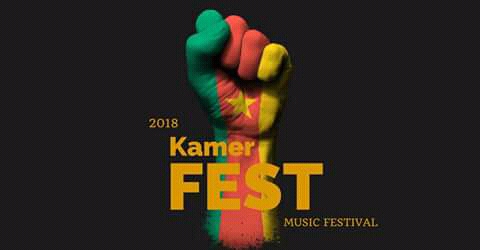 237Showbiz: Your TOP 3 music video directors you admire in Cameroon?
NS PICTURES
Adah
Shamak
237Showbiz: Earlier last month, your label and video department blessed Cameroonian artistes with an amazing discount on everything production. How did the clients react to this? Do they still complain?
Many artistes are coming and keep going…most are happy, others still complain pragmatically that they can't still afford the promotional package. They say they have no money. I understand that. It cuts me to the heart to see a lot of people so helpless in this case. Those I can help, I do help…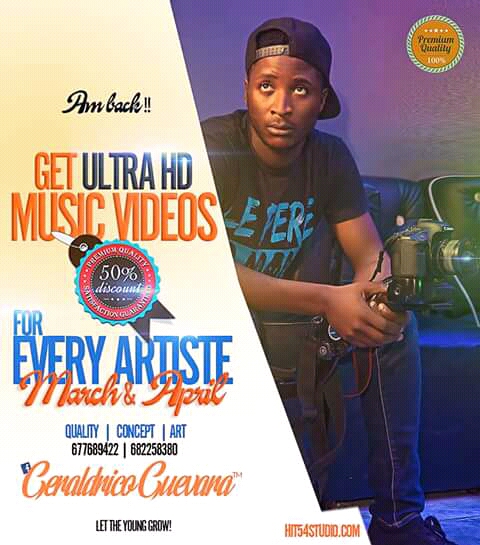 237Showbiz: We've noticed that Camer video directors are talented but lack one thing. Each and all of them. If one is good in colouring, he's bad in lights. If one is good in angles, he's bad with aerials. What are you lacking as a video director?
I lack Perfection. Michangelo, Raphael, Leonardo Da vinci, they were all human beings, who produced art works that are today considered the magnus opus of arts… if perfection is thus attainable by humans, then here I am on that path bound for it.
I can say, without any guilt of boasting, and with every authority that I am one of the best shot 'composers' in the entire CEMAC region. Concept-wise, am working hard on that too.
It took me many years of pain to transcend to the realm artistic shot-framing from that of a 'professional' amateur, and i hope the difference becomes clearer, not only for me, but for the industry as a whole.
I have good colors, and I keep making them more visually appealing and telling of the video's subject matter. Bad color-grade can ruin the intended mood, aspect, or imagery in a music video.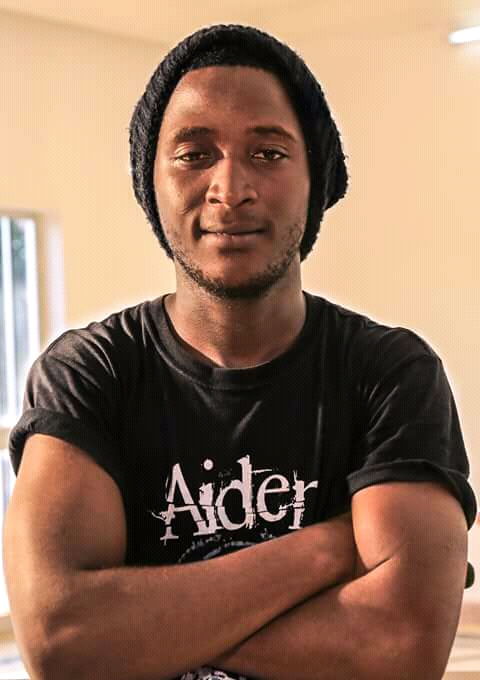 237Showbiz: Bringing back old wounds. At a point in time, you were in bad terms with a few artistes, for example Askia then you later apologized. How did this negativity affect you professionally?
I love to be realistic and emphatic, a lot of people, friends and followers were not happy with me, some decried my pragmatism, my over boldness, at the detriment of my solid relationship with people. I saw reason that some things when not well approached despite our intellectual vantage point may instead break what had been in the process of being built.
237Showbiz: Your Camer celebrity crush?
I have none, yet!
237Showbiz: If you had spiritual powers to overtake an entertainment industry like South Africa, Ivory Coast and Nigeria, will you use it?
It only depends on what Spiritual Power is, in this context!
237Showbiz: We are growing, Cameroonians are supportive. Unfortunately, some elements tend to bring us down. Hate, jealousy, envy etc. How can we tackle these ills?
Humility, everyone. Everyone should be ready to work with each other, and artistes should stop feeling like they are indispensable. The Hold hands Movement should work from Top to bottom. Approach your music like a business man. Learn to be smart! And control your temper and your ego!!
237Showbiz: You have people, young aspiring music video directors who look up to you, do you have a word for them?
You all should believe in yourselves and give a lot of your time to learning, and creating on your own. Do music video showcases like from other music videos, from films, etc, and show to friends, or put online. Learn how Cameras function, framing, editing, directing, lighting. "Na Small Small."
Am also open…A training project is already in place!
Am still young and believe that with my help we will have more awesome music video directors in the industry, and even work together to improve the industry.
237Showbiz: What can you say to explain the reason for the difference in your video, Dr Nkeng's, Adah's, Shamack's and Feb 16's?
Am a concept music video director. I direct music videos from my heart. What you see is what I see through my mind's eyes…I try to create what I see in my mind, and not what I have seen others do.
I take my time to frame shots because of the mood i want to pass through them. I take my time to develop a concept and time to shoot.
I try to make the music video be as artistically independent of the song but still thematically related, as well as making the song artistically dependent on the music video, in cases where it's the video that has to make the song bigger.
I verily approach music videos from their lyrics and thematic concerns.
237Showbiz: Nowadays the fans are video analysts. If your video doesn't shine bright, it means you haven't spent on it, meanwhile a dark video concept is a cheap video. Is this assertion true?
Our appreciation of art or works of art in Cameroon is not as refined as that from countries because of the mud-level quality of ''public'' pedagogy and education!! Many Cameroonians have actually refused to give themselves reason to appreciate good works of art. To some, it is the brightness or HD quality that matters, to some, it is the color…but to me, it is the concept, and the color that enhances the idea or concept.
Colors speak more than what many imagine, and the wrong color can ruin a music video work. But above all, the script or storyline is the foundation of everything…it is on it every color, composition, editing and imagery stands.
There are many poorly done heavy budget music videos as well as there are many amazing low budget music videos. It's all about the creativity of the director and the ''inspirationality'' of the said song. Many songs usually inspire us or challenge us to create something more amazing from our past works.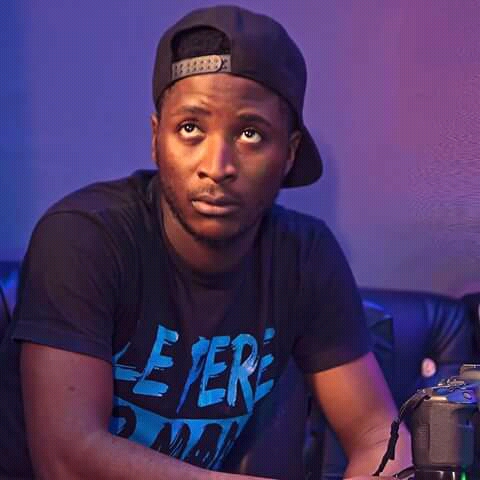 237Showbiz: What are those aspects that can make the cost of a video go up to 5.000.000CFA?
Craft: a music video director who takes many many years to build his craft ameliorates from experience. When he does and is respected, he takes his price up as is the case with most small-to-big-switching businesses.
His name or signature on the music video is part of his brand and his art and art showcase. It does not come cheap.
Concept also matters in the price tag. Equipment renting also matters when making the final price list else, you may end up loosing money.
237Showbiz: One advice for upcoming acts in the entire industry. One word for those who want to take over Nigeria another word for the #SupportYourOwn trend.
Be humble. Believe in yourself, believe in team work. Believe in hard work. Research, avoid premature fame. And if u get famous early, or even if you get famous, let your humility be your point of attraction!!
237Showbiz: Thank you Geraldrico Guevara. #Team237Showbiz is Grateful to have you on our #237ShowbizDirectorsSeason
The PLEASURE was mine. Honoured to have taken the seat, Thank You!! Looking forward talking with you some day.
Interviewed by;
Victor Kange
(#NaTengiYesu)