Cameroonian comedian, actor and philanthropist CY International popularly known as Old Pancho continues the online fight as he bashes media houses and promoters in Cameroon for playing almost 99% of foreign entertainment thereby giving a blind eye to their own.
Old Pancho took to his social media (Facebook) using the results of The King Kong Stanley Enow YouTube collabos as a clear example why our artistes, filmmakers and actors don't need to collaborate with Nigeria to get the exposure we need. See screenshot of his Facebook post on Cyril Inter.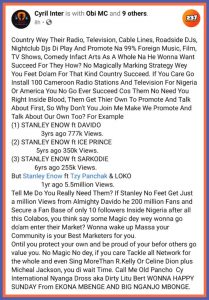 "Your community is the best market for you. Until you protect your own and be proud of yours, before others will value you" Old Pancho says.
What are your thoughts about the point CY International is trying to make ? Do you support his airplay regulation of 80% <> 20% in Cameroon ? Leave your comments behind.