Cameroonian UFC Heavyweight Champion Francis N'Gannou and fellow Nigerian UFC Welterweight Champion Kamaru Usman are the true definition of what "Support Your Own" and "Hold Hands Movement" represent. Both fighters have been showing endless support towards each other for a very long time now and we believe it is something Cameroon's entertainers need to emulate. There's no where you'll fill an Usman Kamaru without a Francis N'Gannou cheering and showing support to an African brother and vice versa.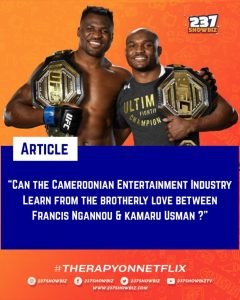 Once again, instead of Xenophobic attacks, we can witness Africans on the world stage representing their respective countries and showing love and respect for each other. A Cameroonian/Nigerian collaboration that is working and working out smoothly. During Francis N'Gannou's knock out game against Stipe Miocic in the second round to win the UFC Heavyweight title, his fellow African brother Usman Kamaru gave him all the support he needed. The love and concern wasn't one sided as Francis N'Gannou returned back the support during Usman Kamaru's knock out game against Jorge Masvidal at the second round to keep in possession his UFC Welterweight title in UFC261.
No beef, No Cursing, No Discrimination, what exactly can the Cameroonian entertainment industry learn from the brotherly love between Francis N'Gannou and Kamaru Usman ?