Cameroonian singer Blanche Bailly was on Thursday July 7th 2022 revealed as the newest Chivas Brand Ambassador. In a press conference that took place in Douala at One Rooftop Bonapriso, Blanche Bailly joined the host of 4 existing Chivas ambassadors namely Mic Monsta in, Numerica, Rostou and Prince Essaka. She maintains her Queen Mimba status being the only lady amongst 4 other gentlemen.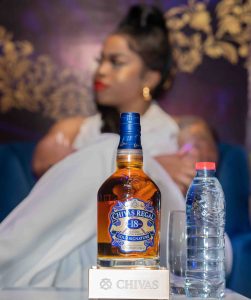 The New Regals seeks to reward a generation that knows how to hustle and pull along others with them. This generation wants to be happy and content with themselves, and they work very hard to do so.
For them, reaching their goals and objectives is not the final goal, but a pedestal from which they can help others to succeed. They want to be in a position where they can create an impact on their community by helping others in need.
Check out photos of the press conference below: