Google Drive, iCloud, Hard Drives used to be the best places to store photos of kids most especially, but nowadays, parents just go straight to creating social media pages for their children. This is very common with celebrities all over the world.
Some of you may be shocked like how did you miss out on the news about their pregnancies, births, first birthdays to Instagram accounts. Well baby Heart Anthony Tonhain Junior is daughter of Cameroonian superstar singer Magasco, head honcho of the label Bboy Records and Miss Ebangha Njang, founder of Sa Majesté Magazine. The 2 year old is now an Instagram account holder with over 2000 followers. Her Instagram handle is @heartanthonyjr
See Instagram Page Below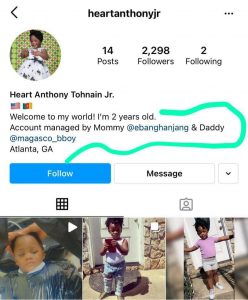 Also, Lionn Productions Singer Mr Leo and Baby Mama popularly known as Slimmix Phonix CEO of Yanslim Clothing have also created an Instagram account for their baby boy Fonyuy Madi-Leon. Both babies already have a relationship as we can see some of Heart's photos on Madi-Leon's page. They were all born in the United States of America. Madi-Leon' Instagram handle is @fonyuymadileon
See Instagram Page Below.