Magasco
came with #
CreatASolution
, aimed at pressuring the leaders of both fronts in the ongoing crisis in the English-Speaking regions of Cameroon to meet in dialogue and sort the problem out,
Salatiel
dropped "
One By One
" where he mourns for the dead and calls us to think about the legacy we will leave behind when death ends our terrestrial journey. All these moves by Cameroonian artistes seemed to have come up immediately after we came questioning the role our artistes play in societal growth. Well,
One Love
who is known to be one of Cameroon's best situational artistes has joined the lot, but he doesn't want to end at singing a thought raising song or creating a trending hash tag, he wants to bring the Cameroonian music industry together in a song for peace. He revealed this recently on his Facebook page, calling on
Salatiel
,
Mr
Leo
,
Valsero
,
Minks
,
Tenor
,
Maahlox
,
Franko
,
Jovi
,
Stanley Enow
,
Krotal
,
Locko
,
Daphne
and
Mimie all under the supervision of Pit Bacardi
to join him sing a song for peace in Cameroon for the North West and South West Regions.
This, I think is a good initiative as our artistes are beginning to gain more awareness about their ability to influence and provoke positive change in the nation. We do not know how far he has gone or how many artistes have agreed to go by his suggestion, but while he wait for time to tell us more, we will like to know your thoughts on this.
Will the music industry in Cameroon successfully provoke a reaction from the leaders or will all their efforts just be like water on a ducks back?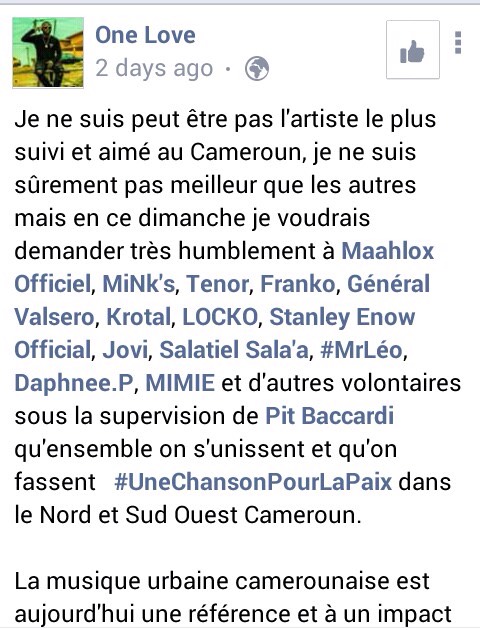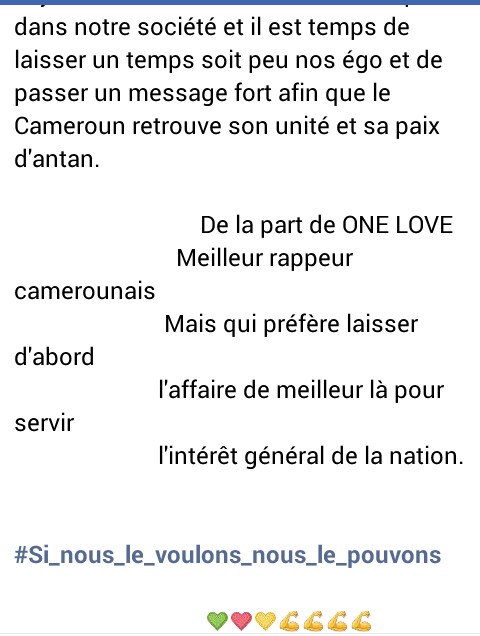 Written by,
Emmanuel Asafor